Did you get skunked on tickets to the 1st Annual Joe Bob's Drive-In Jamboree?  Well, your wails of lament were heard …
Due to overwhelming demand, Joe Bob Briggs and the Mahoning Drive-In will now be adding a FOURTH NIGHT to Joe Bob's Drive-In Jamboree in Lehighton, Pennsylvania, this July!  The Jamboree will now open on Thursday night, July 15, with a "Welcome to Appalachia" barbecue, a performance of Joe Bob's critically acclaimed live show, "How Rednecks Saved Hollywood,"and a very special 35mm screening of Smokey and the Bandit.
As previously announced, Joe Bob's Drive-In Jamboree will also include the Mutant Fest indie film festival on Friday, July 16, "The Last Drive-In LIVE" on Saturday, July 17, and a haunted drive-in event with a classic double feature and live zombies on Sunday, July 18.
The Mahoning Drive-In sits in the middle of the Ridge-and-Valley Region of the Appalachian Mountains, so the eight-hour "Welcome to Appalachia" event on Thursday night will begin with a locally catered barbecue. Then Briggs will perform his one-man show of the most sacred redneck cinematic moments,never before presented at a drive-in. The evening will end with a 35-millimeter screening of Smokey and the Bandit.
"I had to be talked into this," said Briggs, "because my live show has 300 cues, uses 200 movie clips and stills, makes extensive use of maps, and relies on my being close to the audience—because so much of it is comedy. Let me put it this way: we tried it out on the humongous Mahoning screen, and I said to Virgil Cardamone, the programming director, 'We're gonna need a bigger projector.'  He bought the projector, and I bought a $150 laser pointer, and we're going for it."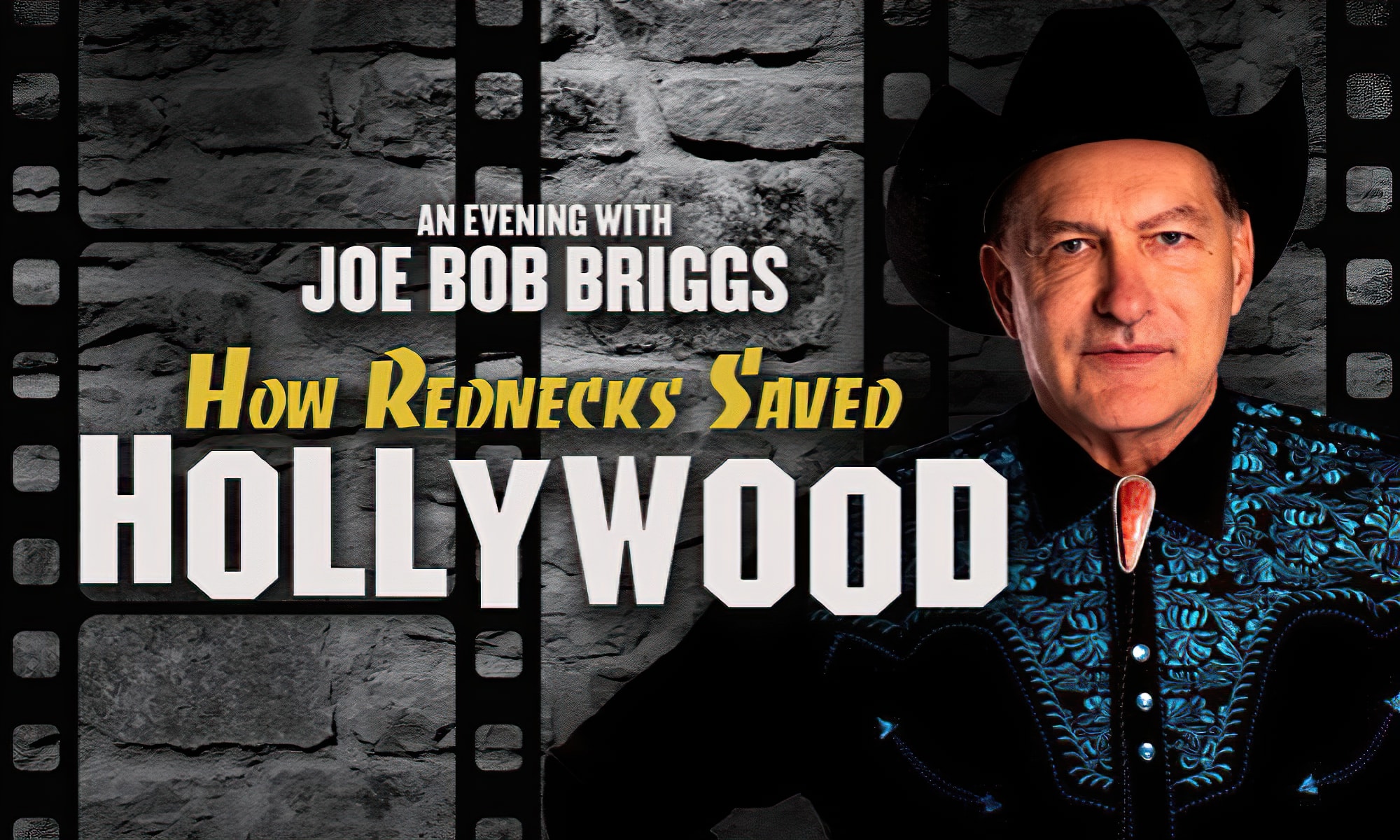 We're so glad you asked friend-O. 
For starters, you'll s
pend a fast-and-furious two hours with America's drive-in movie critic as he uses over
200 clips and stills to review the history of rednecks in America as told through the classics of
both grindhouse and mainstream movies.
Along the way you will learn:
The identity of the first redneck in history.
The precise date the first redneck arrived in America.
The most sacred redneck cinematic moments.
How Thunder Road, the Whiskey Rebellion, the tight cutoffs worn by Claudia
Jennings in Gator Bait, illegal Coors beer, and the Cannonball Baker
Sea-to-Shining-Sea Memorial Trophy Dash combined to inspire the greatest movie in
the history of the world.
Why the redneck is the scariest monster in all of film history, with visual evidence.
The existential difference between Forrest Gump and Sling Blade.
The reason God loves rednecks.
. . . and dozens of other historical facts that you didn't realize you needed until Joe Bob deposited them in the rear lobe of your brain.
After Joe Bob's fast-and-furious two-hour presentation, he will introduce what he calls "the greatest movie in the history of the world"—Smokey and the Bandit. The Mahoning is famous for its championing of classic 35-millimeter projection, so this will be a rare opportunity to see the movie as it was originally shown in 1977.
Tickets are on sale now for the new Thursday show.  Tickets are also still available for the Sunday world premiere of Joe Bob's Drive-In of Dread, a multi-media experience featuring live zombies roaming the lot, with screenings of the 1950s classics "House of Wax" and "Them," hosted by Joe Bob and Darcy from the Mahoning projection booth.
Current ticket holders for Friday, Saturday, or Sunday who would like to add passengers to their car will have the opportunity to purchase additional tickets beginning Friday, June 11 at 12pm EST. Please note that you must provide your original ticket purchase number at checkout and must ensure that any additional attendees will be in the original ticket holder's vehicle. Parking will be first-come, first-served.
Joe Bob and Darcy the Mail Girl will both be available for meet-and-greets on all days of the Jamboree.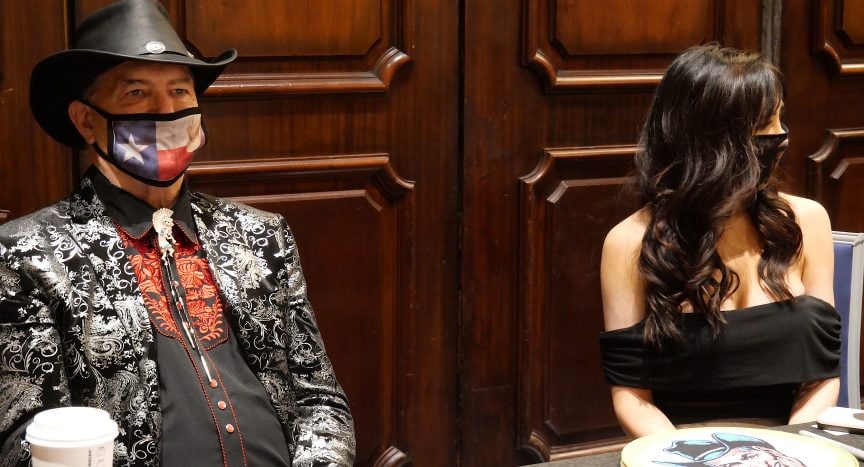 "Part history lesson, part clip show, and all entertaining, Joe Bob's How Rednecks Saved Hollywood is the man wholly in his element: hilarious, insightful, and courageously plain spoken."
Isaac Thorne
Tennesee Horror.com
"Joe Bob Briggs would probably blanch at the description, but the cult movie enthusiast, humorist and media personality is above all an astute social critic. All his wit, politically incorrect quips and keen insight into Americans — particularly Americans who reside south of the Mason-Dixon line — was running full throttle when How Rednecks Saved Hollywood, Joe Bob's freewheeling comedic history lesson peppered with exploitation and mainstream movie clips, kicked some serious ass with a sellout crowd at the Back Alley Film Series and Charlotte Film Society's presentation at C3 Lab Saturday night. 
…A rollicking yet well researched history of the origin of rednecks and our culture's love-hate affair with them."
Pat Moran
Queen City Nerve
"As an "artsy fartsy" organization that whose mission is to both educate and engage, we couldn't ask for a better program than Joe Bob Briggs' "How Rednecks Saved Hollywood." A whirlwind tour of the history of cinematic representations of Scots-Irish Presbyterians who, try as they might, just can't ever seem to get far enough away from city folk to drink their moonshine in peace, Joe Bob's presentation proves the drive-in will truly never die! His extreme wit, deep wisdom, and enviable endurance prove that Joe Bob is back for good. Don't miss the opportunity to see this true southern gentleman (in one of the most incredible getups I've ever laid eyes on) give the talk his entire career has been leading up to"
Zack Hall
Program Manager, Belcourt Theatre
"Not only is Joe Bob one of the best live experiences out there right now, you also walk away having learned something! Joe Bob also bends over backwards to accommodate his fans and makes sure every single show is unique and high-energy, whether it's his first show or his 100th!"
Lauren Knight
Creative Manager, Alamo Drafthouse Phoenix
"Joe Bob's performance at our theater was one of the more unique events we've ever hosted! Our audience marveled and laughed while learning a new history behind some of their favorite films, taught by an icon of genre cinema. As entertaining as it was informative, film fans hung on Joe Bob's every word while taking in the expertly crafted multi-media presentation. We can't wait to have him back for another in-depth and hysterical look at our favorite movies!"
Mark E. Anastasio
Program Manager, Coolidge Corner Theater Foundation
"Joe Bob is the Henri Langlois of exploitation films. He's already a cinema saint, and if I were you, I'd pray for his guidance."
John Waters